Everyone needs a job to earn money. I have a rule of thumb that I followed when I apply for a job.
For me, the job is not something you can take it slightly. You need to enjoy your work because you spent most of the day working on the job. The average time you spent around ten hours per day includes your commute time.
These rules may not be applied to you. It depends on your priorities in life.
I've sorted the rule from most priorities.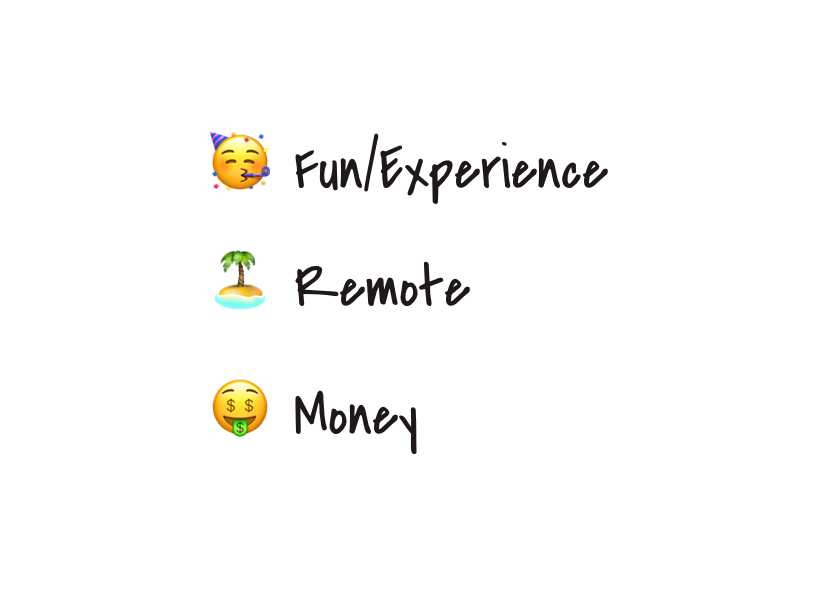 Love what I'm doing
Love what I'm doing is you enjoy the work you do or the job can bring you to the next level.
For example, you're a backend engineer with PHP. You are the kind of guy that loves data structure, database, queuing, and so on.
If you love what you are doing, you probably going to apply another backend engineer position in a different company.
If you wanna improve your career life, you may apply to full-stack engineer or backend position with the modern stack.
I will not take a job that downgrades myself - I'll not going to apply for a job that using Cobol 😂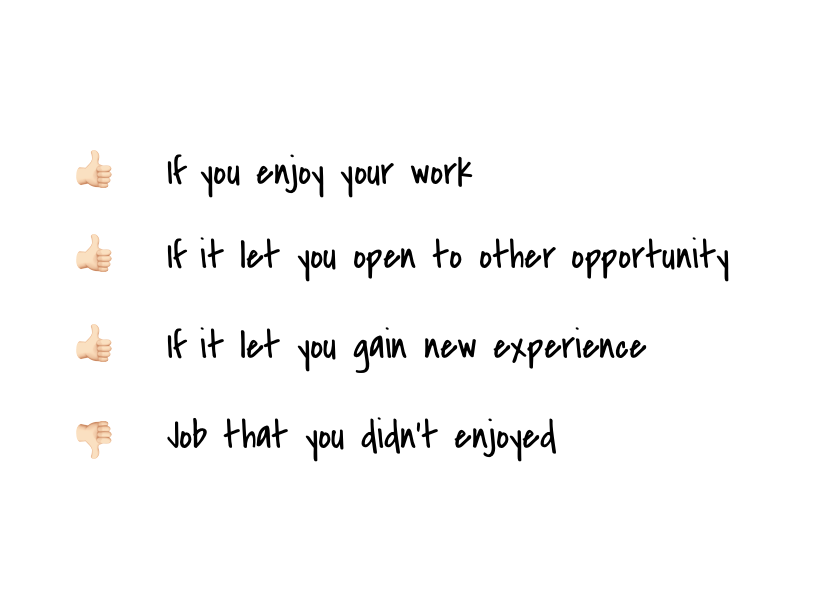 Job is taking most of our time. I prefer to spend it doing something I love or something that can bring value to my life. I instead choose experience rather than money. At least, try to find something that fulfills your creativity and have fun.
Flexible
This is important. Everyone has their own life and priorities. I prefer to work in a company that values efficiency rather than time is taken. Everyone knows when is the right time I become productive.
Personally, I don't like to spend eight hours per day in my office. Why you need to stay eight hours and pretend you're busy when you boss passing you.
Most of the work can be finished faster if you focus on your work without interruption. Get a two to three hours block each session and do it twice.
By having a flexible working hour, you may enjoy life outside of your work. If you as a parent, you may want to spend your time to send your kids to school. Maybe you want to have a healthy life; you can start cooks your healthy meal at home and going to the gym.
Work becomes more manageable if you're in good shape. Your mind and body are working together.
I know in Malaysia, not most of the company didn't offer fully remote work, but some of them already open with flexible working hours.
If you're interested in remote working, you may read book REMOTE from Jason Friend and DHH.
Money
Lastly is money. Everyone loves money. Some people prefer money as the top of their priorities. For me, I didn't marry yet, and I've no debt. So, I have some space to take a risk and enjoy what I'm doing. My priorities may be different when I'm married and have a family.
Why I value time more than money
If you can reduce your time-consuming at work, you may increase your rate per hour.
Let's assume every month has 30 days.
On-site company
For example, you work in a local company that pays RM 4,000 per month. You spent 30 minutes going to work.
Your time consuming per day is 9 hours (1-hour rest) and 1-hour commute = 10 hour/day
The total you spent your hour per month is 200 hours.
Your hourly rate is 4000/20 = RM20
Remote / Flexible Working Hour
For example, you work in a local company that pays RM 3,500 per month.
Your time consuming per day is 6 hours (1-hour rest) = 6 hour/day
The total you spent your hour per month is 120 hours.
Your hourly rate is 3500/120 = RM29.16
Although remote work has a fewer salary, you have more free time. You may use your free time to improve your life or spent on another income source.
How do I know if the job is for me?
No. You don't.
You need to get into the company, and then you know it suitable for you.
Usually, I'll be asked a question during the interview session to fulfill my rule. You can imagine how the company works and its environment.
Work is like married. You don't know if your girlfriend is someone that you are going to spend your life with her until you live together.