It's a habit that I write what happens during my entire year. I try to be transparent as possible. If you're interested, you may read my previous year here - 2017, 2018.
Fulltime freelance
One of the highlights of my year is fulltime freelance. Honestly, it's quite hard. It takes a lot of guts to make this decision. I've been doing part-time freelance since I was studying in college. The only thing that curios me is what's happen if I go fulltime. I wonder what I'll do and how I'll tackle the freelance problem.
One of my goals is to have flexible working hours. I'm not a big fan of spending most of my day in the office. I realize that freelance is one of the ways to achieve it. I decided to try fulltime freelance.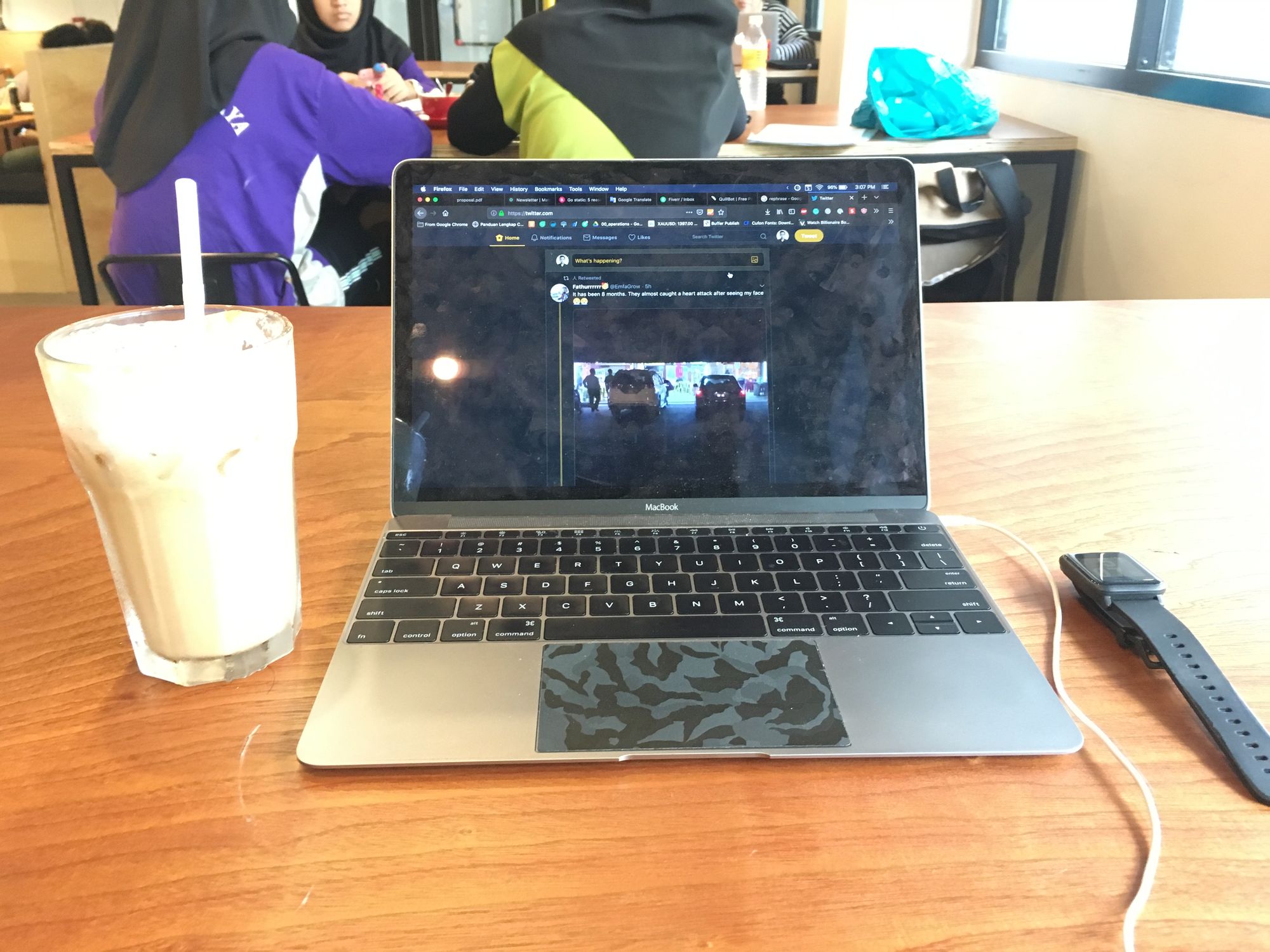 The first thing I would do is register a company and open a business account. It's hard to track financial flow if I merged personal savings and business. Since I'm a solopreneur, I'll decide to go with the enterprise. My business account's using CIMB because it doesn't need a business representative.
That's how my full-time freelance journey begins. I guess do you want to know the income, right?

💡 Hint: The dotted line is RM 5,000
Close 5 figure freelance project
The reason I have the confidence to go fulltime freelance because I've got a five-figure project in the early year. It's the highest project; I've ever closed. Since I've become a full-time freelance, this figure could give me around three months' buffer of salary.
One thing that I realize was I wouldn't say I like meeting with the client and do the project, although I'm not too fond of it.
Hackathon Hong Leong
In June, I joined a Hackathon by Hong Leong Bank with my friends. It was an enjoyable experience. This is the second time I joined a hackathon. The project we're built was a financial score based on your expenses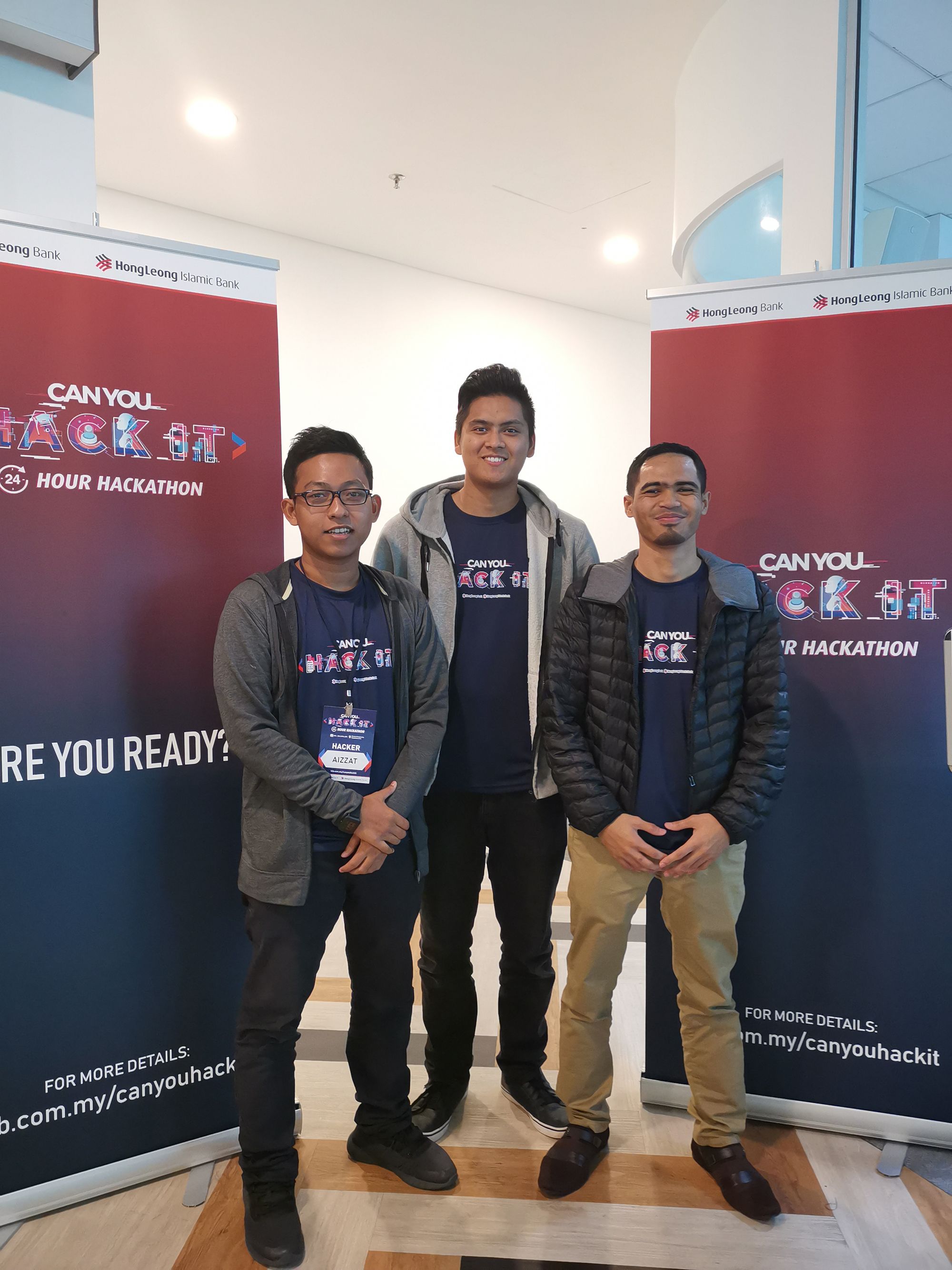 Although we didn't win the hackathon, we get an invitation from an investor to fund this idea. After several meeting, we decided not to pursue it because its required full-time commitment, and most of us have a full-time job. It's still a sweat experience.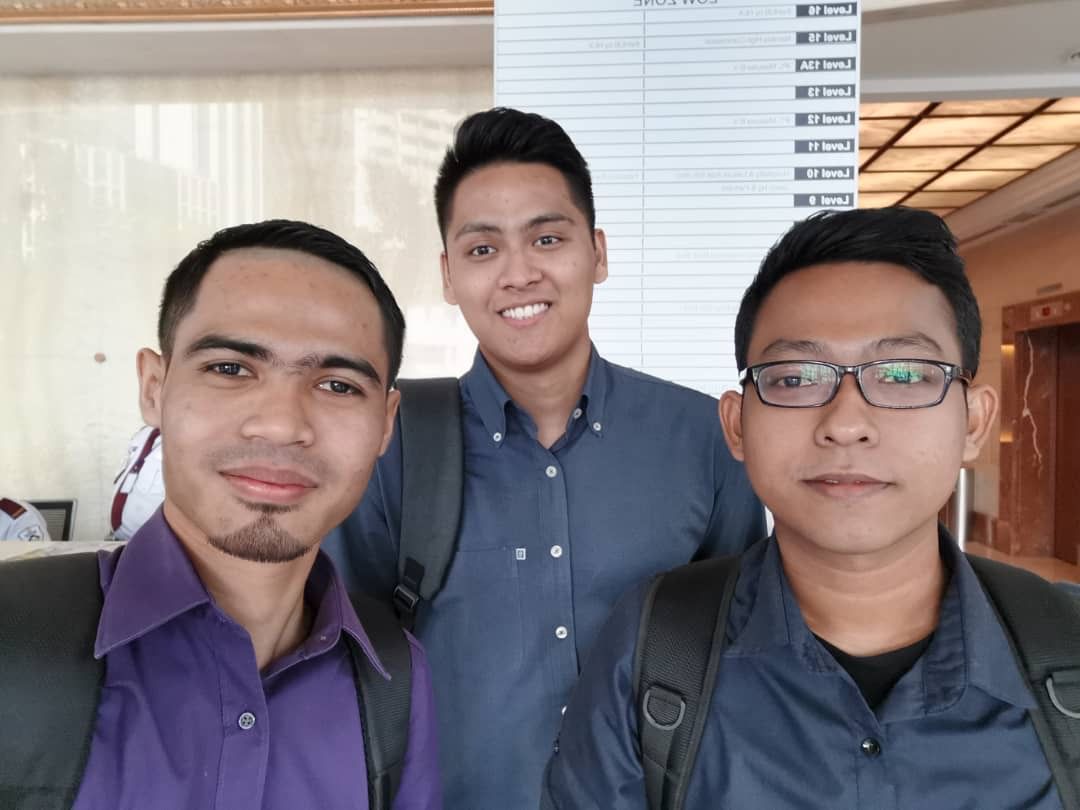 Get a full-time remote job
When my freelance business was getting slower, and my company only able to pay me for another two months. I decided to find a remote job. The first thing I do is apply to the remote job board. I rarely get any response from that maybe because my skill didn't look good enough.
Then, I join Indonesia remote job group on Facebook and apply several jobs that matched my skill. First, I get an interview for the Australia company, and the task was to convert PSD to HTML/CSS. Unfortunately, I careless with the mobile landscape view. I'm frustrated with myself.
Last, I found a company that was looking for a Frontend Engineer (Vue). It's one of my mission to find a job using Vue.js as a frontend framework. Most of the posts today are looking for a React developer.

The technical test was quite fun. Luckily, I managed to pass all the interviews and get into as a Mid Frontend Engineer. Now, I've worked for six months, and I'm so grateful for this opportunity.
Burnout
In October, I get burn out so bad. I don't have any interest in working with the development area. I want to lay down and watch Youtube/ play Dota.
The reason I burnet out is I juggling between my full-time job and freelance. I spent most of my time in front of the computer. It was the highest project I've got. The deadline was so short, and I need hustling finish that job. I even hired another developer to help me, but it doesn't work well.
Unfortunately, it's not going well. The project was canceled. I was relieved because I'm free. It affects me for a whole month. I don't have any motivation to do all the jobs. I fired all of my clients and passed the upcoming gigs to my friends.
I want to have a rest from all of this freelance world.
Invest on Myself
English Class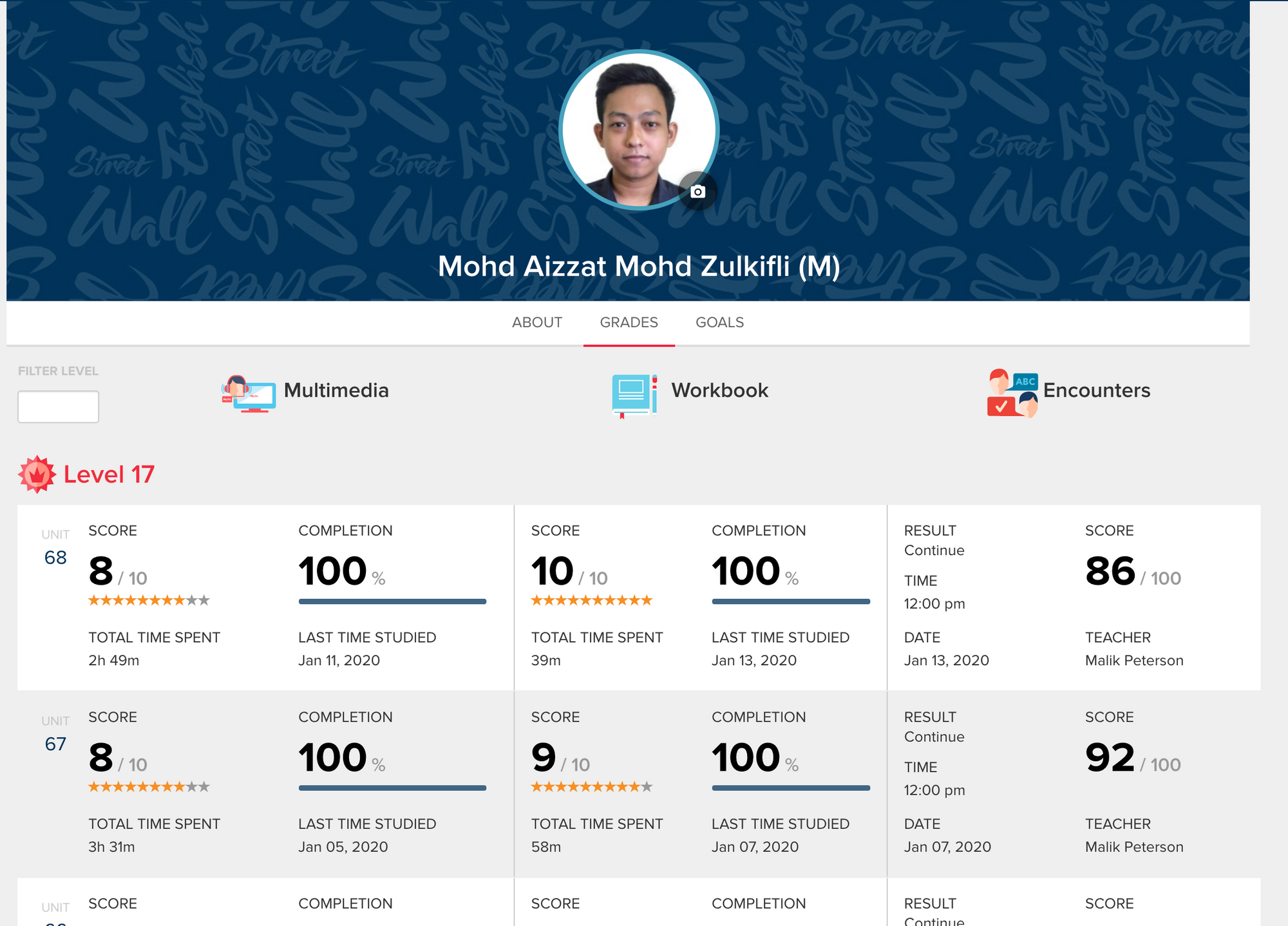 Since I didn't do any freelance, so I've much free time, I need to find something to fill my time. So, I decided I want to improve my English skills. I go to google and search for English class around me . Luckily, there is one class near my house. I went for the first meeting and pay for four-month courses.
Finally, I have an activity to fill in, which doesn't require a computer screen 😂.
Care of my health
I started to go to the gym every weekday. I just run for thirty minutes on the treadmill, and I'm done. I just want to get sweat and be active.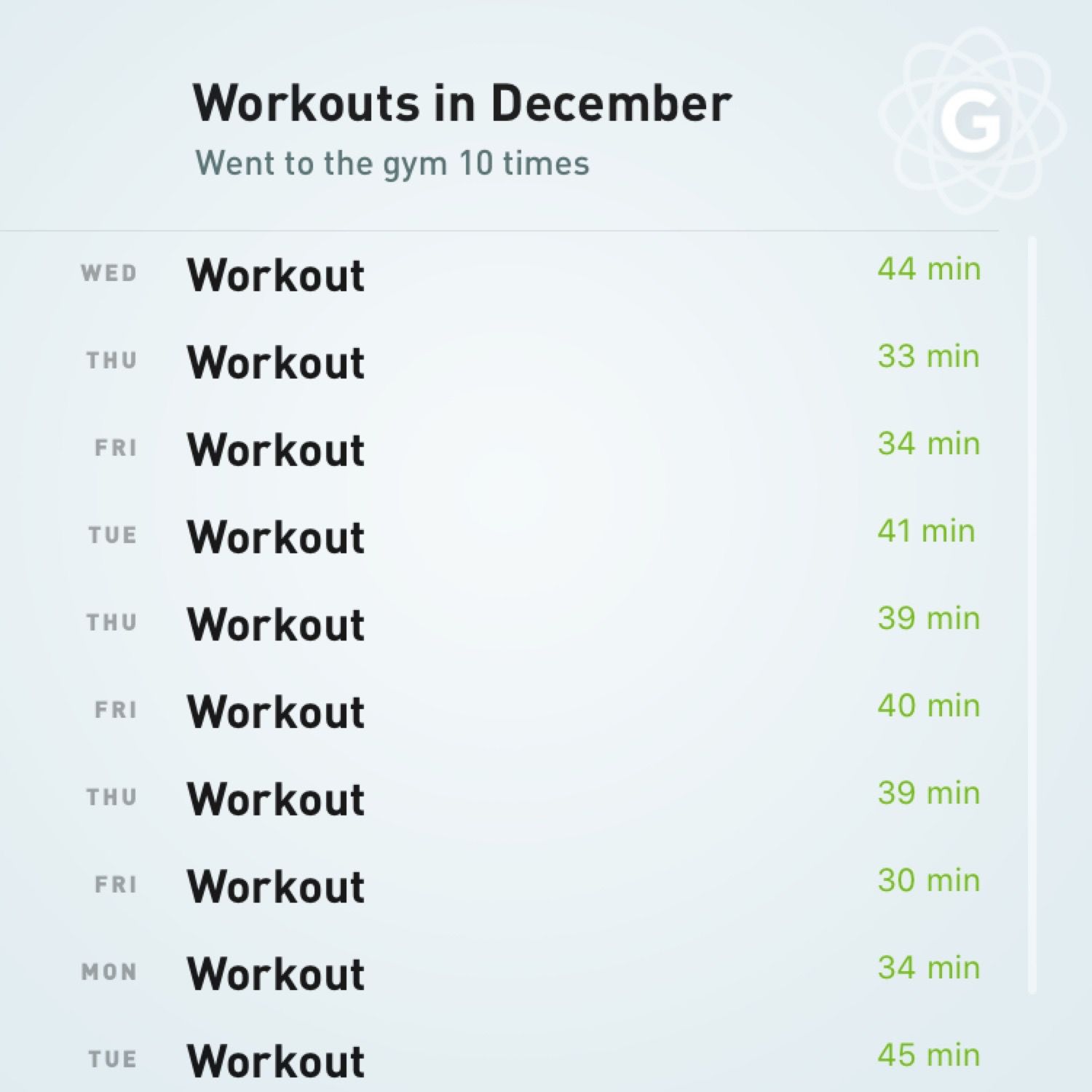 I realized something. If you're going to the gym consistently, it affects your food habit. You'll likely are be going to eat healthily or at least reduce the amount of unhealthy food.
Side Hustle
Medium
I love to share what I learn. Since, most of the time, I learn Vue.js right now, I write an article on Vue.js topic. I posted the article on my blog and Medium. Somehow, I get an email from Vue.js Developer publication that they want to include my article in their publication. By doing that, I able to get a lot of views and enable a paywall for my article.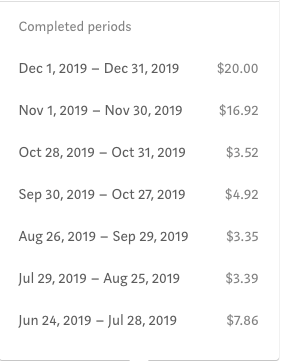 It's not a lot of money, but it's so fun to see someone read your article.
Currently, I've three articles on Medium with the paywall.
Fiverr
Since I'm doing freelance, I have a lot of digital assets such as WordPress plugins, themes, and other digital assets. I saw someone provide a service of an installation WordPress plugin for $5. I decided to post several gigs on Fiverr. It required one month for me to get a buyer.
Average - I get $38/month for eight months.

Just in case, if you want to join Fiverr, please register with referral link 😂 - Fiverr - Freelance Services Marketplace for Businesses
Finance
I know money is a taboo topic. People rarely talked about it. I've recorded my everyday transaction for the past two years.

I managed to increase my net worth by 93.2%. For the first three months, my net worth is a bit stagnant because I'm transition from a full-time job to a full-time freelancer.
In July, I started working full-time again in a remote job. Felt so good that you have a consistent income.
The downside in September is because I'm buying a MacBook 😂. My MacBook can't run several microservice at the same time, and it keeps lagging during video conferences.
Side Project
5invite.com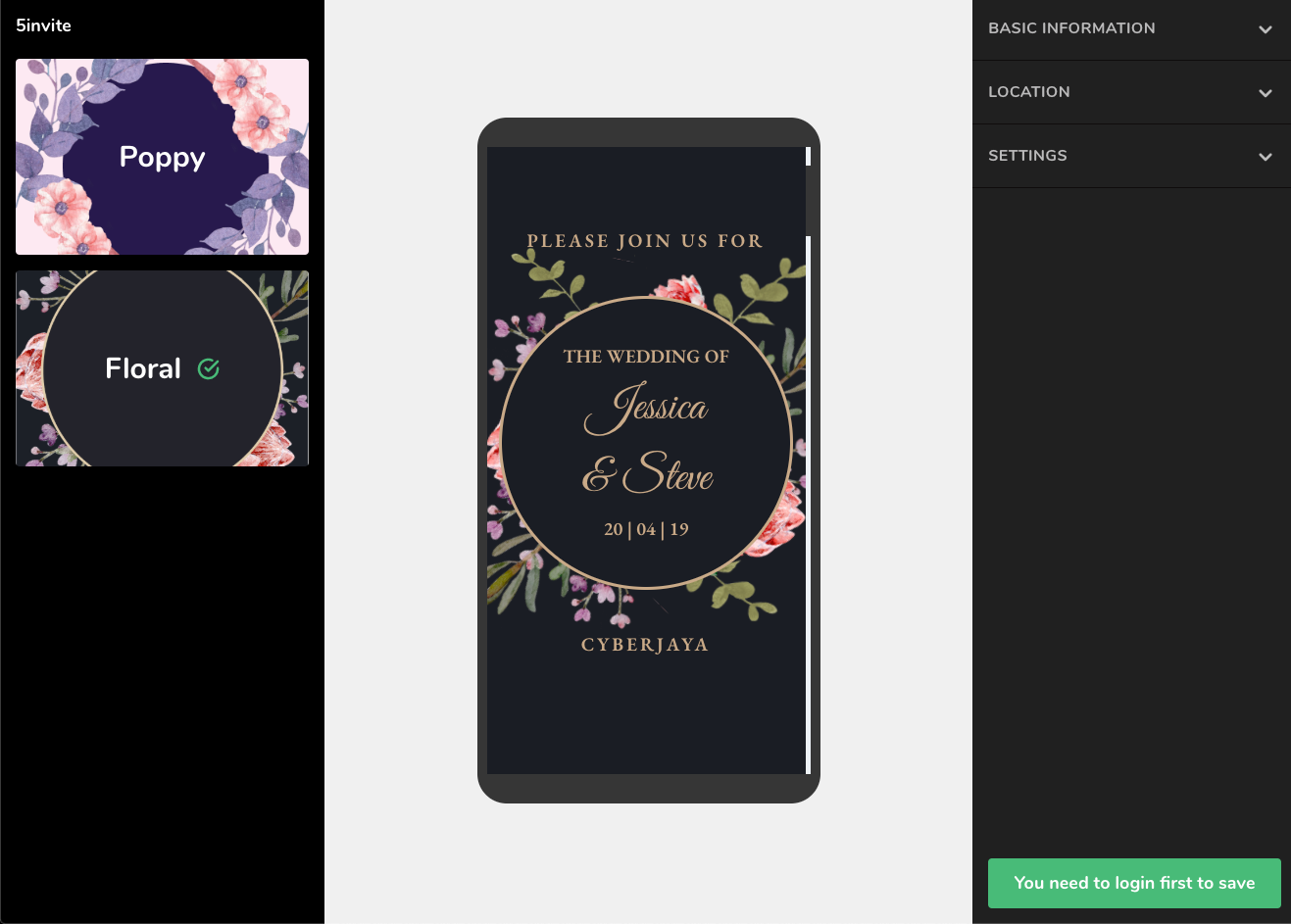 The only web app I managed to finish. It's a web app to create a digital wedding card. I launched in November, and currently, its generated RM150 for a custom theme. I am probably going to write another article for this project.
Upcoming
A plan without a strategy is not going to work. I'm going to list down what I want to achieve this year and how do I systemize to get there.
Reduce amount of freelance work
I burned out last year because of this. I only to take a job that I've passion about. The easiest way to reject a job is by increasing your rate 😂.
Start to write everyday.
I'll spend 30 minutes every day in the morning to write anything I want. Most of the writing will be stored in the Bear app. --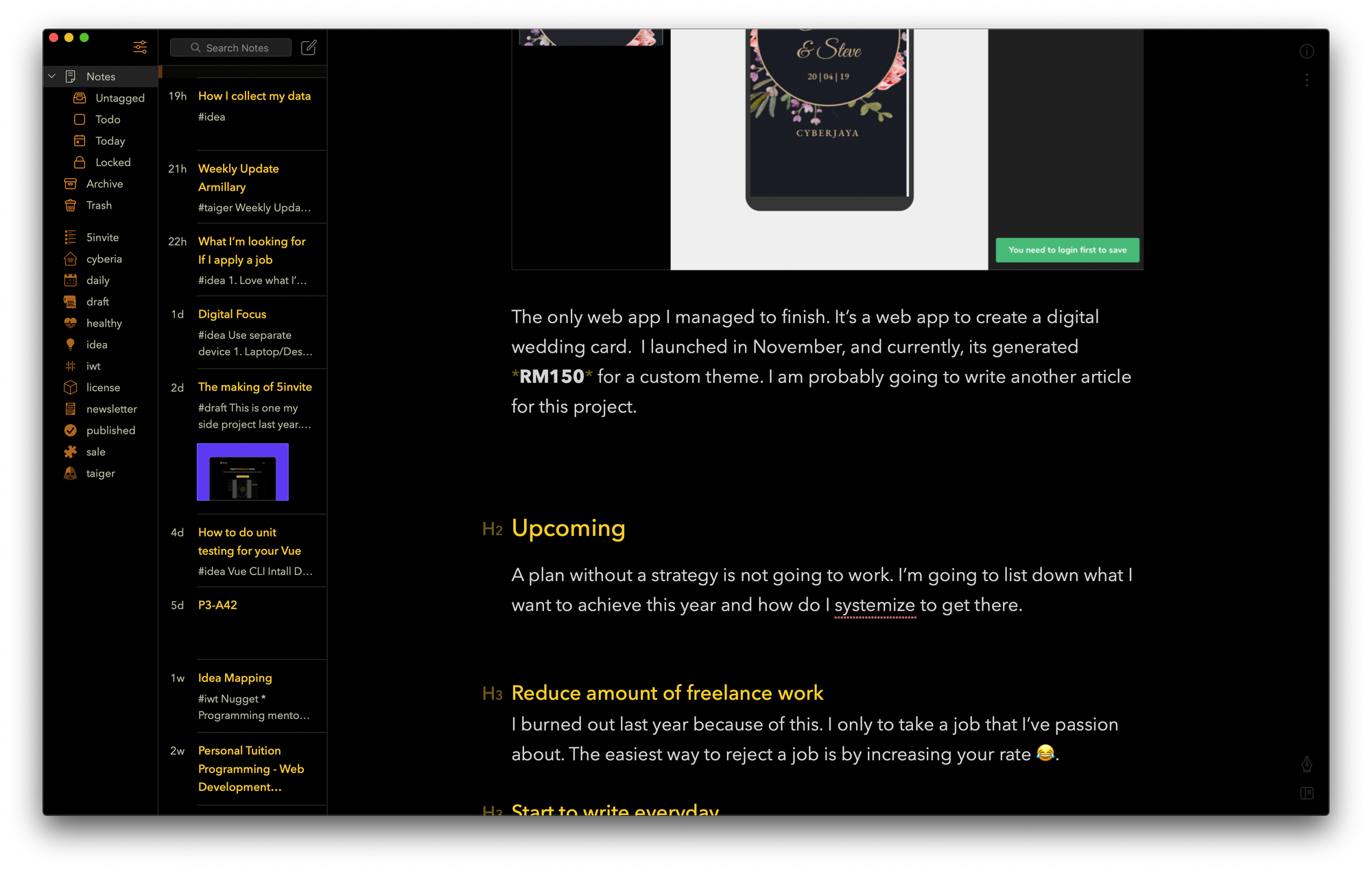 Getting Healthier
I'm going to count calories every single day. I want to make it a habit. You can't change something you didn't track.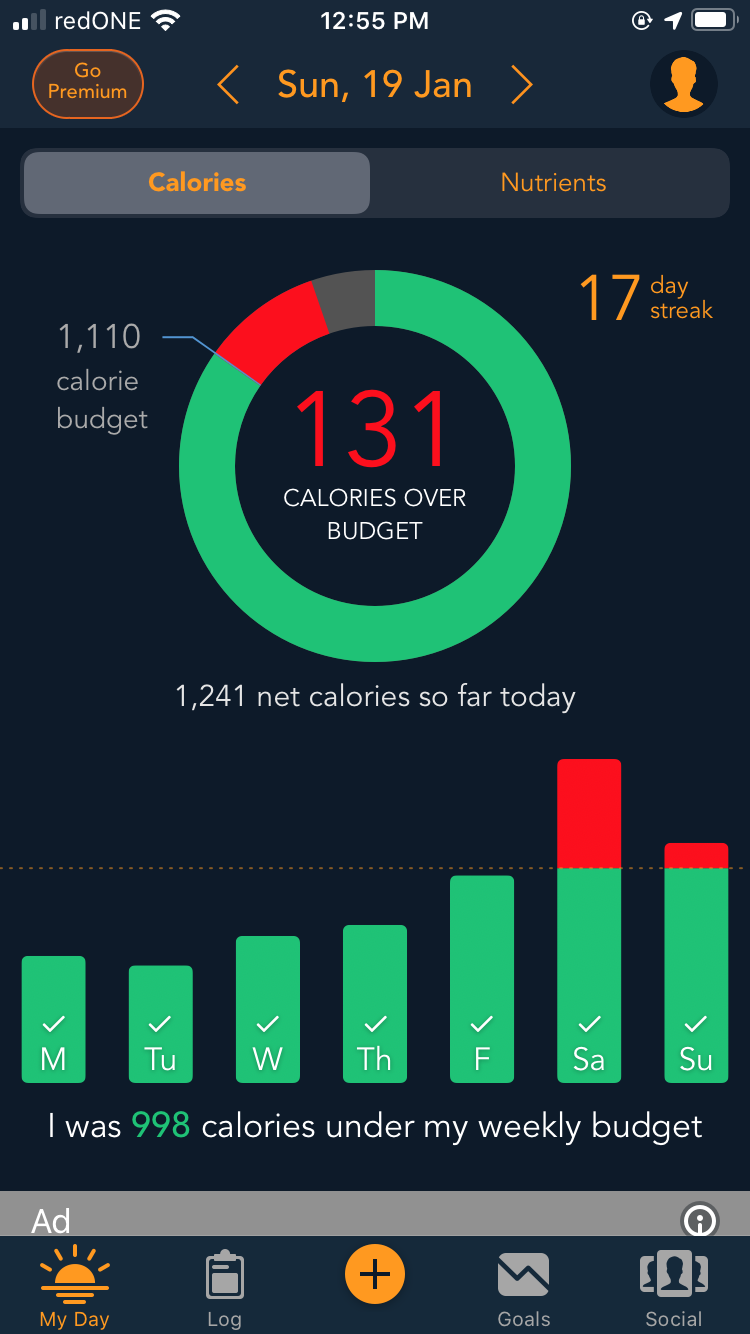 Make intermittent fasting as my habit. I've been doing for the past year, and it got many benefits, such as reduce night food craving. I would love to have this in my daily life.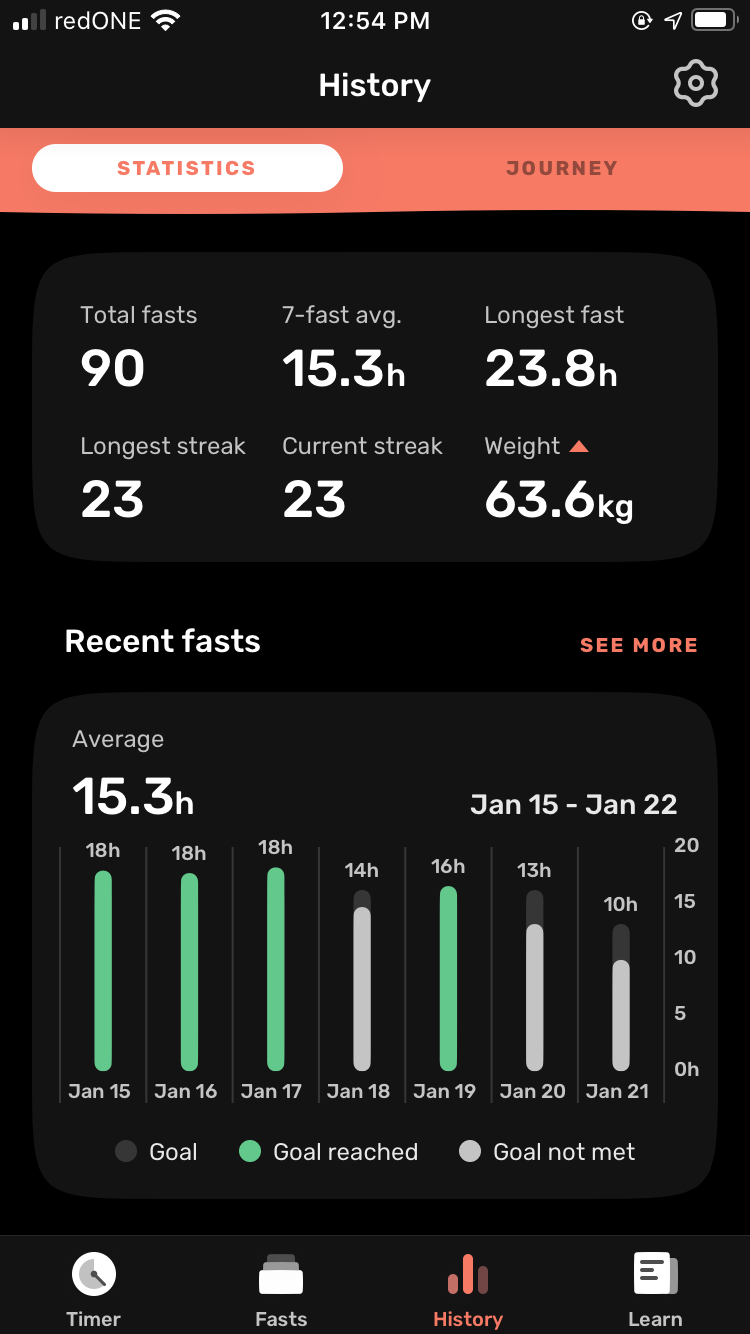 I'm using Gyroscope to track my healthy life. So, if you're into data like me, you'll love this app.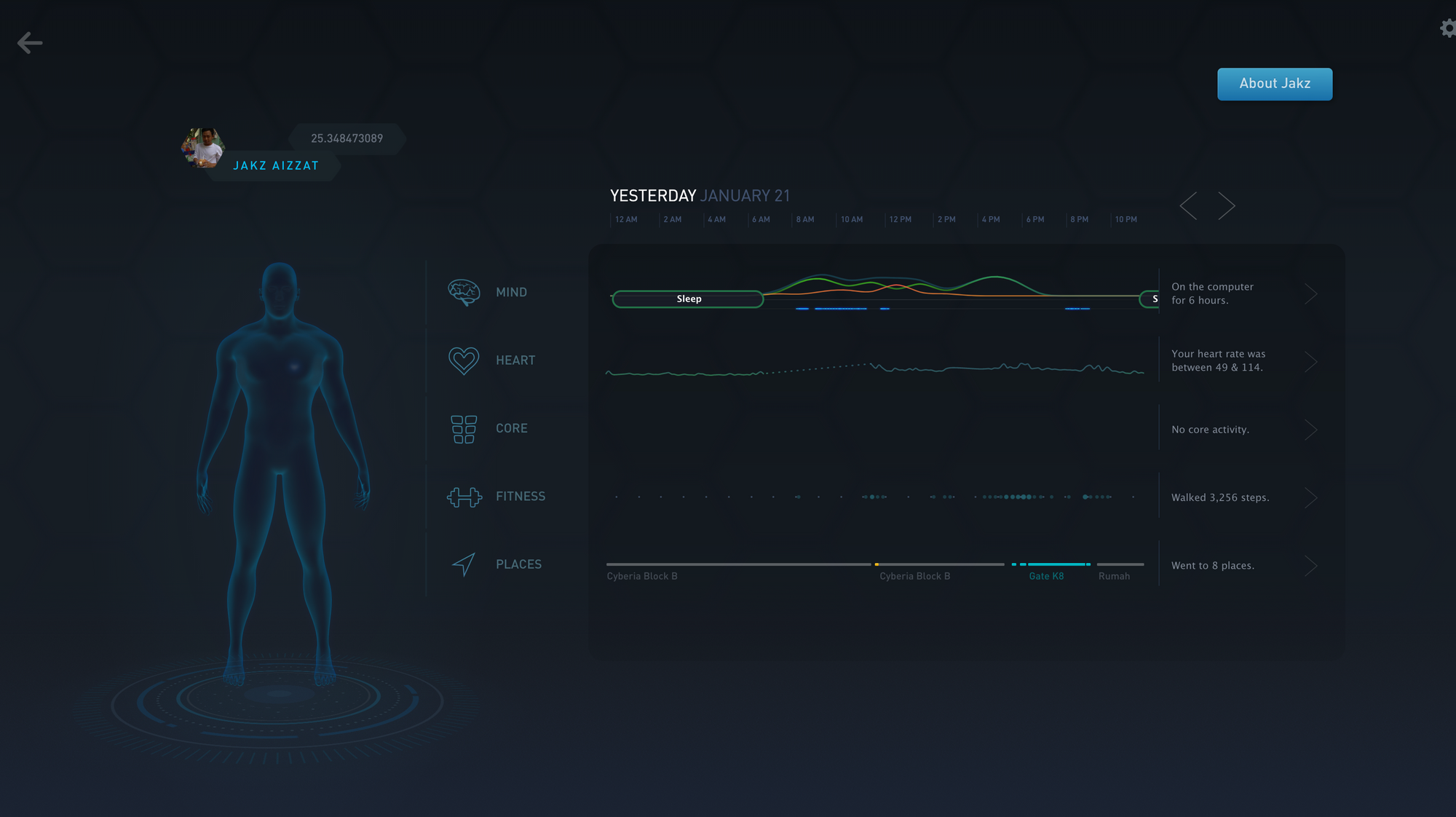 Improve my skill as a Javascript Engineer
I'm currently working as a Frontend Engineer. I would love to move into a Full-stack Javascript engineer. I would spend my time learning this topic on Frontend Master or any article that I saved.